Edito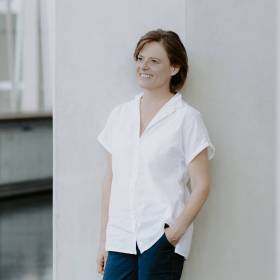 In 2021, the dance biennale will hold its 19th edition. after numerous tweaks due to the event's postponement, and despite so many question-marks up to the very last moment... we are expecting the artists in lyon in june for our reunion, and will be celebrating african creativity and the young artists' scene! we will also be offering the fagor experience – a new experience that's free, generous hearted, and open to all.
We are playing host to masters of the international scene and to young artists who are giving the best of themselves: a powerful critical gaze coupled with a distinctive imagination.
A new free experience, and an even more inclusive biennale
The Lyon Dance Biennale is introducing a new strand called The Fagor Experience. Eleven creators have agreed to reach out to young people across greater Lyon and together explore new sensory experiences that are often cross-disciplinary, collective and close to the grass roots. We invite you to discover choreographic works in unusual formats (gigantic, interactive, performed by 40 people in some cases …) which are all led by teenage and student amateurs aged 15 to 25. You can stroll through installations; watch performances; take part in masterclasses, a battle or debates; invent your digital dancefloor, and more. Amid a surprising, open-minded, festive atmosphere, sample all these artistic propositions free of charge – by yourself, with family or friends, at the Fagor Factory (Lyon 7).
55 creators from four continents
Creative luminaries of the international contemporary scene, such as Marlene Monteiro Freitas and Dimitris Papaioannou, are bringing their latest pieces to Lyon from 1-16 June. Twenty-two "2020-2021" creations will give this edition its momentum. Several productions by grand ballets, such as Ballet Preljocaj and Vancouver-based Ballet BC, could not be kept in this reduced programme due to seating restrictions. The good news is that the world premiere of Le Lac des cygnes by Angelin Preljocaj, initially slated for the Lyon Biennale, will now take place this autumn at the Maison de la Danse. Focus Danse, the professionals' event supported by the Institut Français and Onda, is once again amplified by the European professional platform, which has become an essential gathering for international programmers. After a blank year for the world of culture, Focus Danse is more necessary than ever for backing the worldwide distribution of dance works. This is why, in parallel to its usual format in theatre venues, we are providing a virtual version too.
African choreographic output today
The 2021 Dance Biennale is part of the Africa2020 season by the Institut Français, supporting new work by prominent and emerging artists from 16 African countries, who are giving a profile to the contemporaneity of a continent that has abundant creative élans. Right across the region, the Biennale is turning into a big hub where French and African artists are co-devising parades, dance pieces and cross-disciplinary performances. It is an addition of stances, propositions and perspectives on the 21st century.
A reinvented africa2020 défilé at the roman theatre of fourvière
In 2021, the Défilé is taking a totally novel form, as the participants were unable to gather and work on their choreographies until April! And yet the 12 groups, all resilient and full of hope, never imagined giving up their involvement in the region's biggest popular and artistic event. For the first time, the Défilé is taking the form of a show staged at the Roman Theatre of Fourvière for the participants and for their families, seated a good distance from each other... On page 8 we describe this reinvented Défilé, supported by regional TV station France 3 Auvergne-Rhône-Alpes.
A novel partnership with les nuits de fourvière
With Dominique Delorme, director of the Nuits de Fourvière festival, we wanted to extend our collaboration beyond the Défilé partnership. For the first time, the Dance Biennale and Les Nuits de Fourvière are taking place at the same time of year, and we decided to make this an asset by staging shows in tandem. Our two festivals will also have a single curtain-raiser: a musical show performed by Camille and directed by choreographer Robyn Orlin (see p.20). This period of crisis has also generated some tremendous joint ventures!
An even stronger region-wide presence
The circulation of dance works and audiences across the region is one of the Dance Biennale's priorities. Directors of cultural institutions in greater Lyon and Saint-Étienne have joined forces in a metro-scale partnership; others are taking the opportunity to feature in their programming a choreographic piece with the Dance Biennale label. We are delighted to offer you 50 dates that will prolong our event around the region, in the Rebonds de la Biennale strand (see pp.76-94). Thanks to all these friends, directors and institutions for their support! Since the 2012 edition, my project has been to closely combine aesthetic diversity, new work, spectator practices, bringing together the finest current creators and all kinds of audiences. A great number of artists are now operating in theatres, public space and third places, and wish to redefine the role of culture. More than ever, this edition is receptive to their desires – multiplying spectator experiences and practices to convince the greatest number that culture is an adventure of sharing and blending, which elevates our human nature while celebrating mind, emotion and beauty. Dance invents new spaces, new bodies, and invigorated kinds of sociability in order to fête the imagination, from which all art springs.
Dominique Hervieu
Artistic director Lyon Dance Biennale