20 markers for a transitional Biennale
It is a huge pleasure for me to share with you the programme for the 20th Biennale de la danse, which will get Lyon and the metro area moving from 9 to 30 September, and then reach across the region until 21 October.
This edition, the first under my direction, is a transitional Biennale. Half of its artistic choices were made before my arrival by Dominique Hervieu, to whom I send warm greetings and thanks.
Now more than ever, the Biennale is affirming its identity as a destination for discovering and exploring the latest choreographic output, with 48 shows and projects by creators from 14 countries. It is showcasing a parity-based programme that offers a diverse array of aesthetics, formats, poetic and political stories, generations, and artist pathways.
From solos to large-format pieces, our guest artists will interrogate their practice — Silvia Gribaudi, Nach, the Collectif Petit Travers; explore our relationship with reality and the agonies of our societies — Phia Ménard, Dimitris Papaioannou, the Compagnie Dyptik, Vincent Dupont; immerse us in their community — Qudus Onikeku, Tamara Cubas, Fouad Boussouf; and unceasingly remind us of the filial relationship between gesture and music — Catherine Gaudet, Anne Teresa De Keersmaeker, Marco da Silva Ferreira.
We will also have the pleasure of welcoming artists who have been away from Lyon's stages for too long, such as the immense Lia Rodrigues with her magical Encantado, or who are appearing at the Biennale for the first time, such as the unclassifiable Boris Charmatz with his new piece alongside the Tanztheater Wuppertal Pina Bausch.
The Biennale will spread out into theatres, but also into the public space with all-terrain propositions, and into the Usines Fagor. This festival hub promises you ways of experiencing, watching and doing dance differently, as with the two immersions in ballroom and hip hop cultures, and an exhibition that highlights the porosity between dance and other forms of expression.
Half of the invited projects are creations, most of which are co-produced by the Biennale, underscoring its strong commitment to supporting the making of dance. This dynamic is enhanced by the European Creative Hub led by the Maison de la danse, with which we are beginning a tieup featuring nine associate artists for at least three years.
The Biennale is also a big gathering for programmers from around the world, and large numbers them are expected to take part in the Focus Danse event we have organised with the Institut Français, Onda (the French office for contemporary performing arts circulation) and the National Choreography Centre of Rillieux-la-Pape.
Taking care that the artists can connect with their audiences — spectators, amateurs, professionals — is essential. We ensure this by making the Biennale a convivial space where everyone can meet up at the Usines Fagor to talk, drink and eat but also to party at Club Bingo – because there can be no festival without festivities, and no festivities if artists and audiences cannot come together and dance!
This, of course, is the purpose of the Défilé, which this year will be back to launch the Biennale, with plenty of surprises in store! This great community gathering once again celebrates the strength and vitality of the collective through amateur practices.
The artists' presence also provides local dancers with training opportunities, courtesy of a workshop programme arranged with France's National Dance Centre.
This new edition also looks beyond its three-week existence, kicking off two long-term projects that will develop through to the 2025 Biennale: À Toi ! an artistic youth committee will give a voice to teenagers; and Forum creates a space for discussion with five curators from five parts of the world, to think about the future of dance on a global scale in a way that is ethical, ecological and rooted in solidarity.
In this spirit of continuity, the Biennale will extend into October, going on the road to the region's partner theatres, and giving the works exposure to an even wider audience.
Operating as a network and optimising dance companies' travel through regional tours are two of our commitments aimed at producing an increasingly eco-friendly Biennale that can address our sector's environmental concerns.
Staging an event like the Biennale involves having a constructive, trust-based dialogue with a multitude of partners: the 51 theatres and other venues that are hosting us in Lyon, the metro area and across the region; the vital sponsors who share our values; the public partners — the Ministry of Culture, Lyon Métropole, the City of Lyon, the Auvergne-Rhône-Alpes Region — who support us financially and in other ways day to day; and, of course, the artists and companies who have forged this festival's history. I extend my heartfelt thanks to them all.
And so, these 20 features – or markers – set the tone of this 20th edition and pave the way for the new project that will lead us, by 2025, to a transformed Biennale de la danse – one that is even more mindful of how the world is changing and of what artists have to say, and even more focused on the future and all our audiences.
Have a good Biennale!
Tiago Guedes
and the Biennale de la danse team
L'identité visuelle
L'identité visuelle de cette édition a été confiée à l'agence graphique Ekta
---
Intention
Un des objectifs de l'identité visuelle est de marquer la transition, le changement de direction et de créer une identité visuelle forte et audacieuse tout en la rendant accessible et ludique au grand public
Parcours multiples
L'idée de parcours dans la ville, de déambulation entre les différents spectacles et lieux nous a semblé un point de départ idéal et évident pour créer la ligne graphique pour la Biennale 2023. A l'image du festival, l'identité visuelle créée met en image l'idée de circulation dans la ville, d'immersion, de croisements, de voyage et de festivité à travers le dessin d'une ligne typographique. En effet, près de 50 lieux sont représentés à Lyon et au-delà dans la région, des styles d'univers très différents sont proposés au public, des immersions dans des lieux insolites, des croisements, des rebonds...
Cette ligne, en plus d'évoquer un parcours, évoque le mouvement du danseur.euse dans l'espace. Il a une signification multiple, invite à l'errance, à sortir du chemin balisé de l'efficacité, du geste rectiligne pour dévier, emprunter un détour, faire un pas de côté. A travers la création d'une ligne typographique continue parcourant et s'entremêlant dans les visuels, à travers l'utilisation de couleurs vives nous tentons de marquer l'identité avec force.
Identité affirmée et accessible
Les affiches proposent un voyage visuel et immersif. Le rapport entre l'image pleine page et les lignes graphiques qui s'entremêlent permet de créer instantanément un dialogue entre l'image et le texte.
Ce système graphique protéiforme se veut reconnaissable dans toute la ville et facilement déclinable sur tous les supports de communication.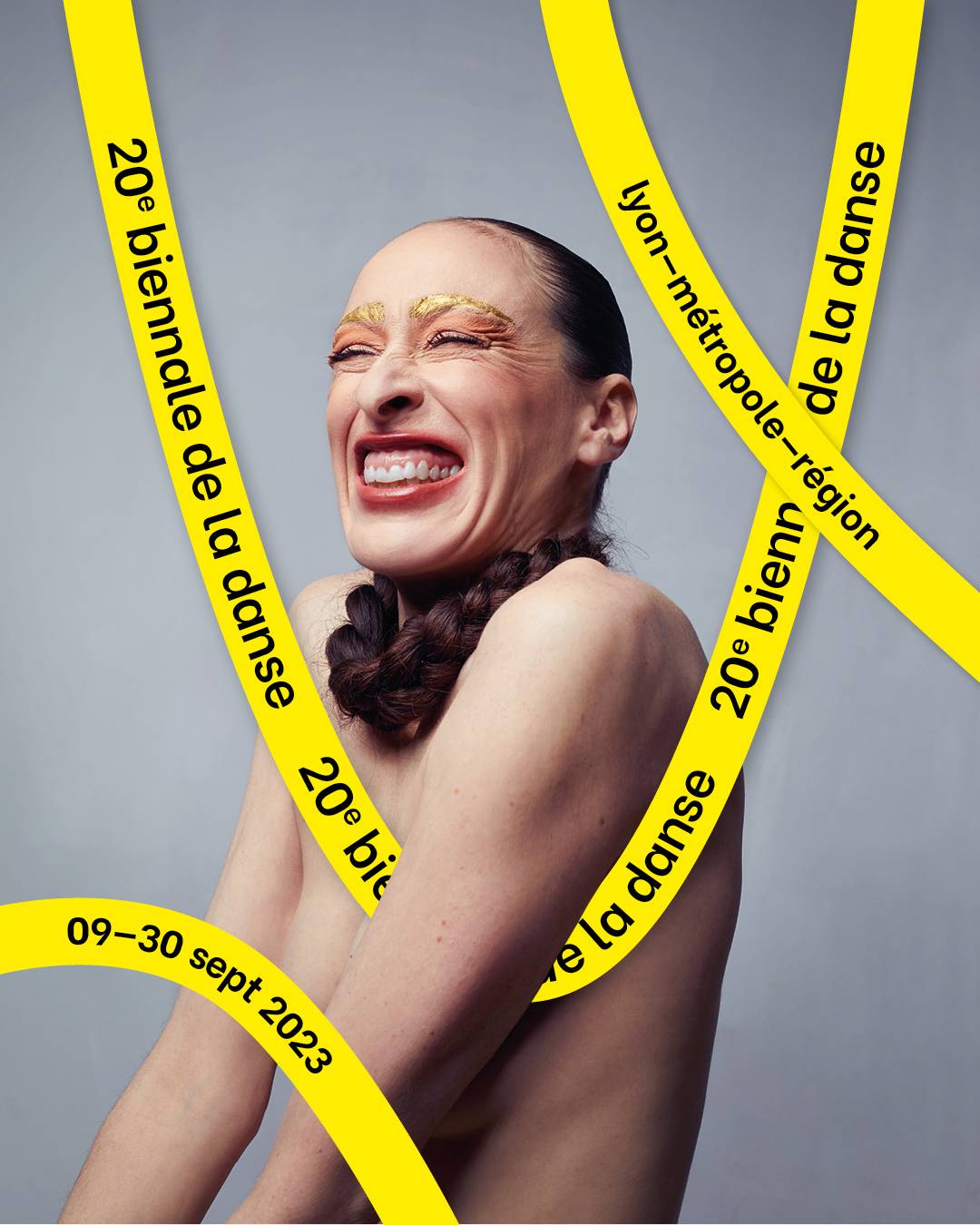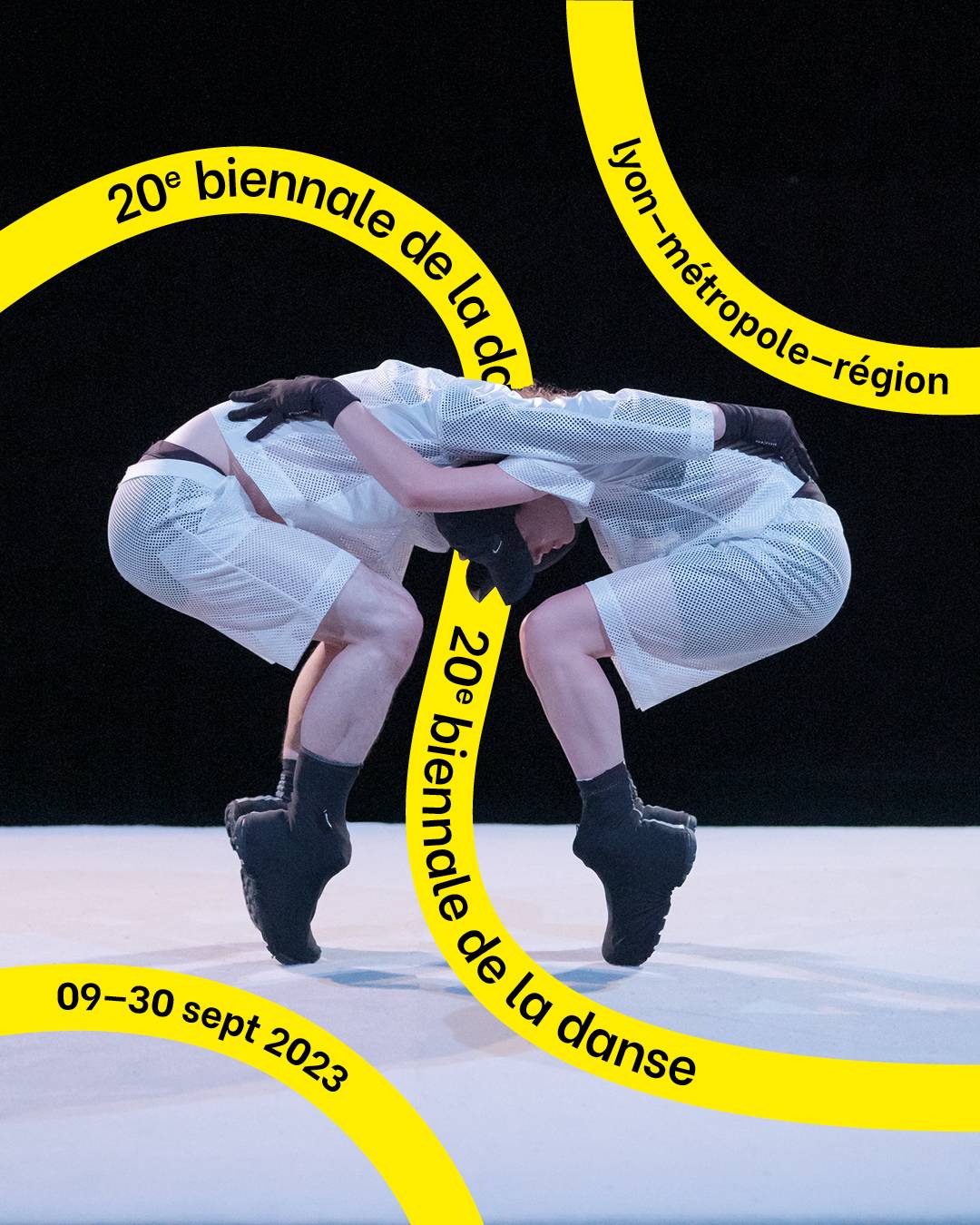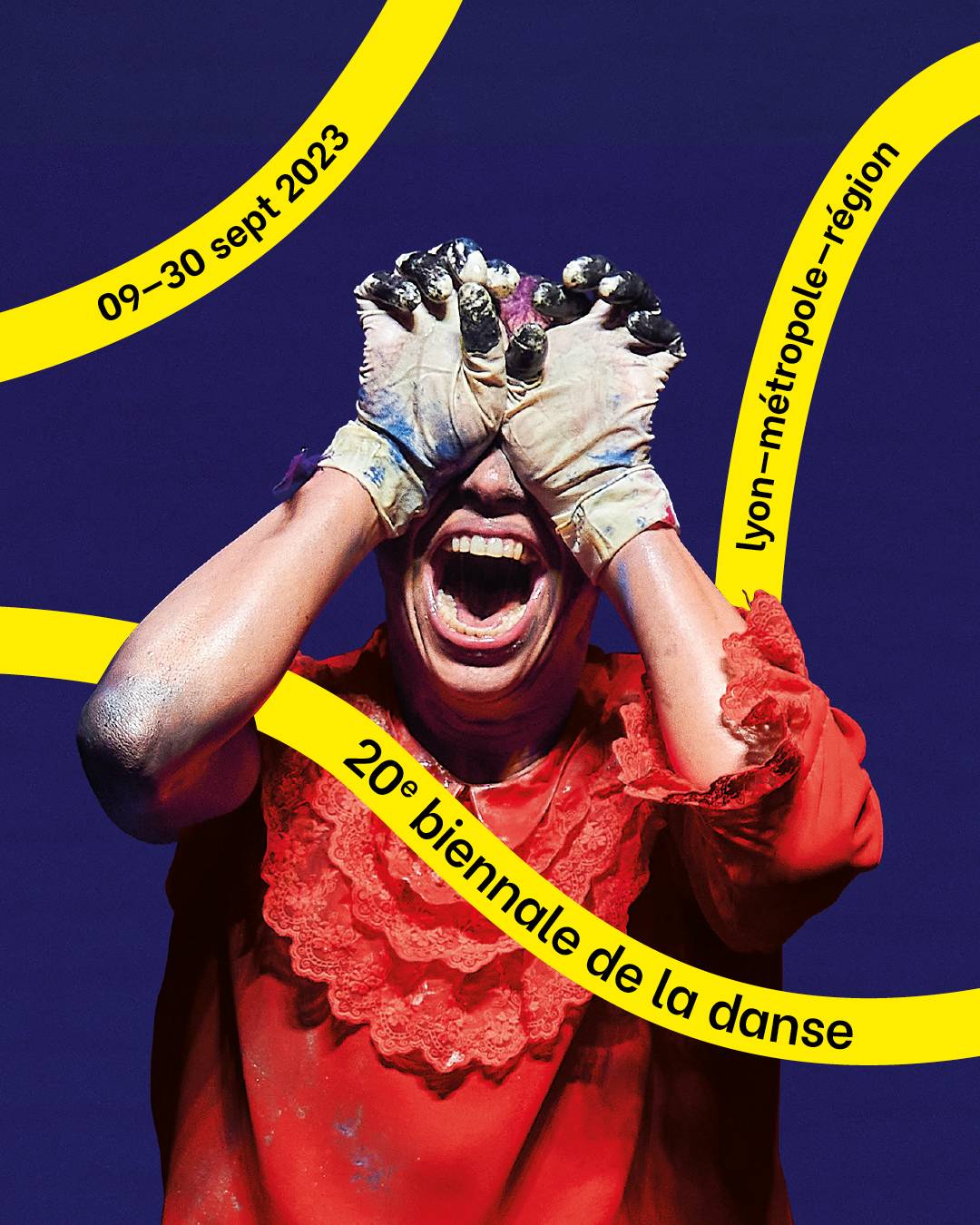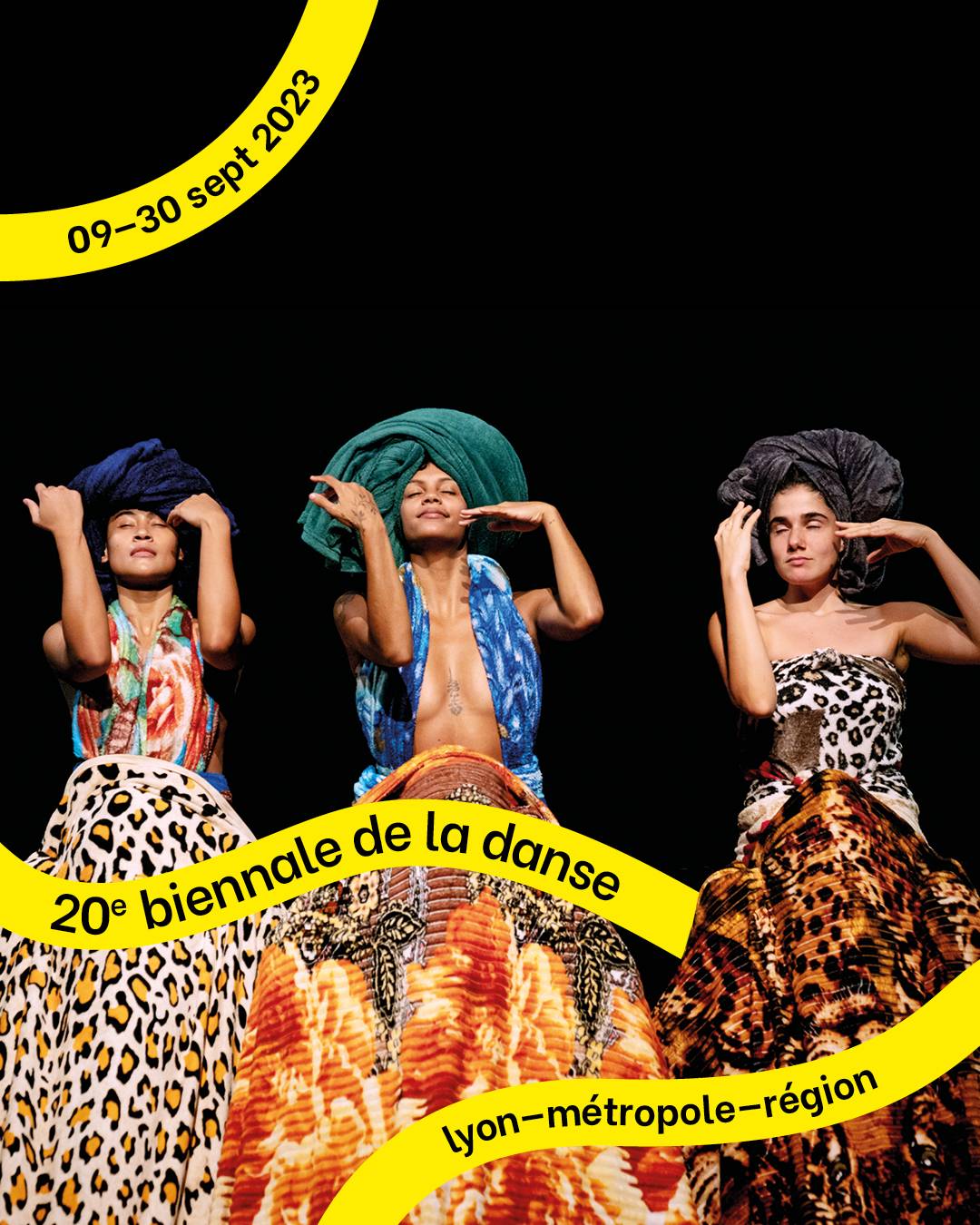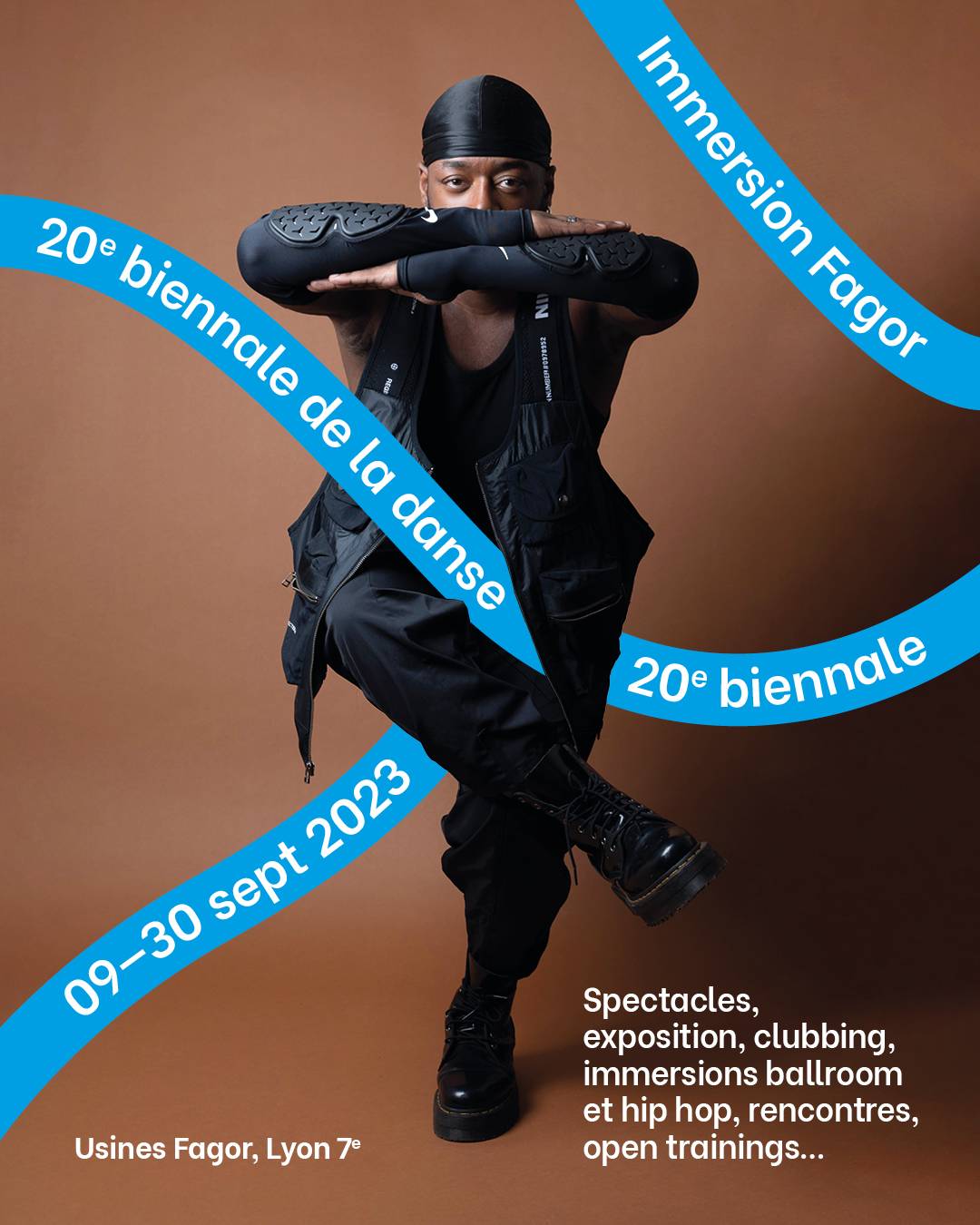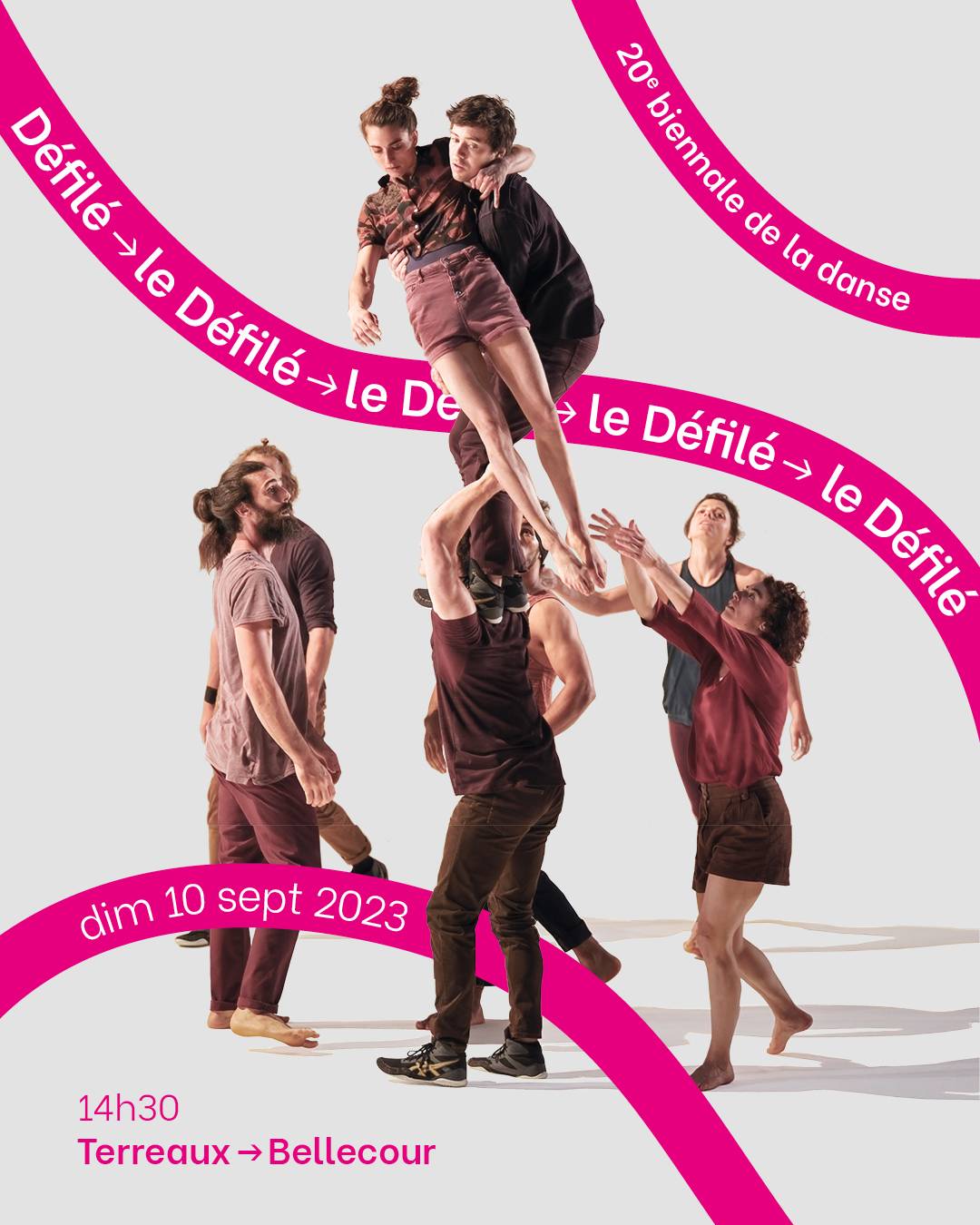 Projets pour l'horizon 2025
À TOI !
An artistic committee for youth
The Biennale and Maison de la danse are teaming up to invite 10 young people from across the Lyon metro area to immerse themselves fully in the world of dance. From September 2023 to September 2025, they will explore all its aspects in the course of a unique artistic and cultural adventure. Monthly appointments – shows, rehearsals, artistic practices, critical workshops, meet-a-professional sessions, and participatory works, all of them ways to imagine tomorrow's culture together – will give them the opportunity to fully express their concerns about present and future. They will also help to devise the 2025 Biennale, in particular by programming one or more pieces. And at the end of that 21st edition, it will be time for our young ambassadors to hand on "À TOI !" to the boys and girls in the new intake!
---
FORUM
The Biennale de la danse is launching Forum, a space for experimenting with, thinking about, and exchanging practices and also for producing work, aimed at developing and imagining new forms of cooperation and programming that are more inclusive, ethical, eco-friendly, accessible, and better attuned to the transformations the world is undergoing.
This programme is being built jointly with five non-European curators from five parts of the world, who will each initiate and provide local assistance to artistic projects with five artists from their respective regions.
These projects, co-produced by the Biennale and slated for the 2025 edition, can take various forms: shows, films, exhibitions, residencies, publications, talks, etc.
THE GUEST CURATORS
Angela Conquet — Australie
commissaire indépendante
River Lin — Taiwan
commissaire indépendant
Nayse Lopez — Brésil
directrice du Panorama Festival
Angela Mattox — États-Unis
commissaire indépendante
Quito Tembé — Mozambique
directeur du Kinani Festival